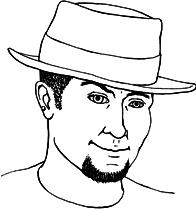 My name is Jason A. Quest, JAQ of all trades, master of nuns.  In addition to my mundane full-time day job, I am a part-time heretic, and a part-time pornographer. I write, I draw, I color, and I letter, sometimes even getting paid for it.
You can find the details of my resumé elsewhere on this site, but here are a few bragging-rights highlights:
Several art pages from my JAQrabbit Tales series (some illustrated by Rick Worley, some by myself) were featured in the 2013 San Francisco art exhibit "Batman on Robin", featuring explorations of the homoerotic subtext to the Dynamic Duo.
"Scout", another episode from JAQrabbit Tales (illustrated by me) was included in Northwest Press' 2013 anthology Anything That Loves: Comics Beyond "Gay" and "Straight". This book was listed by the American Library Association as one of the 10 favorites on their annual list of recommended LGBT books (prose/comics/poetry) for adult audiences.
"Everybody's Doin' It", a short story I illustrated (written by Dale Lazarov) was the featured comix story in Cleis Press' Best Gay Erotica 2014.
Other things I'm particularly proud of (even if no one else thinks I should be) include Neverpedia (the Peter Pan wiki), The Nude 52 (pin-ups of naked DC superheroes), and Captain Miracle (a satirical superhero powered by God).
---
JAQ (Jason Answers Questions)
Q: How do I contact you?
JAQ: (my first name and last initial) at JAQRABBIT dot com … or leave a comment at the bottom of this page.
Q: Didn't I go to school with you at [insert Grand Rapids institution here]?
JAQ: Probably. I've gotten around. I've been to a local high school, community college, art school, private religious college, and even spent a little time at trade school.
Q: Didn't I see you at…?
JAQ: No comment.