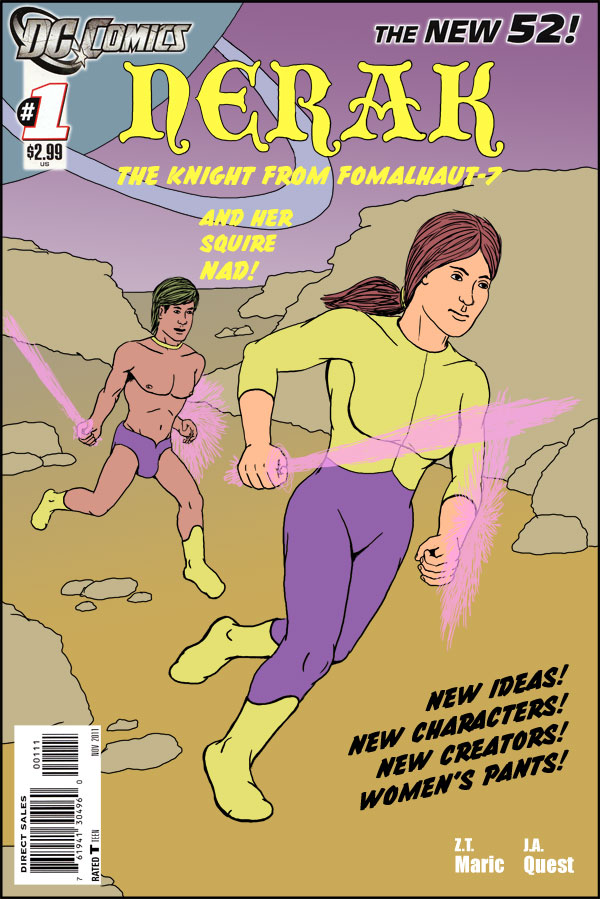 Back when DC was launching their "New 52″ line, sorta-overhauling most of the DC Universe, they did an online survey to gauge reader interest. To flag bogus responses, they included a fake title in the list: Nerak. I decided to have a little fun and designed a character and cover art to go along with it.
The character's name was totally made-up. One theory was that it was "Karen" (as in "Karen Berger", increasingly marginalized editor of Vertigo) spelled backwards, so I gave her a sidekick named "Nad" (as in "Dan DiDio", increasingly powerful co-publisher of the company). I made her a science-fictiony space knight, because it seemed like a genre that DC ought to be doing more of. You may notice a species resemblance to Starfire, who is notorious for wearing exactly the opposite amount of clothing that Nerak wears.
The cover copy is entirely tongue-in-cheek. DC's "new" characters were almost entirely rehashes of existing ones, sometimes being "updated" to look more like older versions. The new titles were noticeably short on female leads, and DC was in the middle of a typical PR trainwreck because they'd published a redesign of Wonder Woman's costume which included pants – which was promptly "fixed" to put her back in panties.